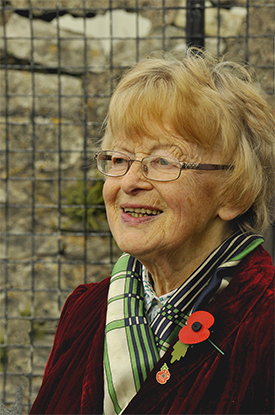 In 1955 a young girl from Enniskeane arrived in Fermoy by train.  She had been appointed the principal of The Adair School, Fermoy.  Her name was Hazel Moore and at the age of 18, she was only 6 years older than some of her pupils.
It did not take her long to settle into Fermoy.  She married Robin Baylor 1958.  Sadly, Robin was taken very early from her in 1964, leaving Hazel with three young children – Nigel (5), Bronwyn (3) and Jennifer (2).
She was not daunted by this great loss and to maintain her independence, she learned to drive and bought a car.  That car was to become an ambulance/taxi service for Fermoy, where her generosity endeared her to the people of Fermoy.  That car knew the way to every hospital in Cork.
For 66 years, Hazel has been involved in improving the quality of life for everyone she came into contact with, in the Fermoy Area.  To give just a few examples.
During the polio epidemic in the late fifties, she cycled around the Fermoy area and gave private tuition in the homes of youngsters when schools were closed.
She cycled as far as Rathcormack to give music lessons.
She was a director and secretary of the Fermoy Show for many years.
She was secretary of the local ICA.
She was a member of Fermoy Choral Society.  Her first show was White horse Inn in 1965.
In 1998, she was asked to plant a tree in Fermoy Town Park to mark the 200th anniversary of the 1798 Rebellion.
Today, she is a director of the Fermoy Resource Centre, where she also helps out in the thrift shop.
Although retired from teaching in 20000, she still teaches today - English to the New Irish.
It is with great pleasure that the Committee presents the Grand Marshal for the 2020 Fermoy St. Patrick's Day Parade - Hazel Baylor.